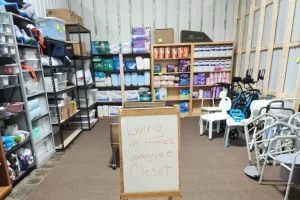 The Caregiver's Closet is a resource available to caregivers and veterans in Park Rapids and the surrounding areas.
The items provided by the Caregiver's Closet include wheelchairs, walkers, canes, and many other items, both reusable medical supplies and one-time use supplies. The items are offered free of charge, with the expectation that the items will be returned to the Caregiver's Closet (if they are reusable) when they are no longer needed.
The Caregiver's Closet is located in Unit B of the new Climate Storage in the Park Rapids Furniture Center at 1104 Park Ave. South in Park Rapids.
The Caregiver's Closet will be open to walk-in requests on Tuesdays, from 1:00 – 3:00 pm and Thursdays from 10:00 am – 12:00 pm. Outside of these hours, please call the Living at Home office at (218) 732-3137 to request an appointment to visit the closet.
Living at Home's hours are Monday – Thursday, 9:00 am – 3:00 pm, and Friday, 9:00 am – Noon.